News
now browsing by category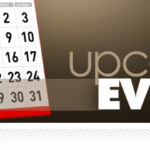 Girls of Grace JDOK Retreat at Camp Allen – Registration opens October 1, 2017
Attention JDOK Directresses! We are so excited about the upcoming JDOK Retreat, Girls of Grace Sweet Earth, to be held January 19-21, 2017 at Camp Allen – Campsite #3 in Navasota!  Encouraging the girls to consider life through a Biblical lens, together we will look at how they can see themselves as part of the global family. Learning the ways that they can help other people and live in harmony as part of God's miraculous creation.
The retreat costs $30 per girl.  Early registration ends and payment is due by October 31, 2017. Please make 1 check payable (from your JDOK chapter) to Holy Trinity Episcopal Church line item: JDOK RETREAT.
We understand that many in our diocese have been affected by Hurricane Harvey.  There are a limited number of scholarships available.  If you need information regarding scholarships, please contact Brandi Antley at 
brandiantley@gmail.com.
If you have any trouble finding these forms, please let us know so we can get them to you!
For His Sake,
Brandi Antley & Vicki Terrell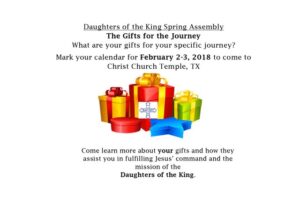 Diocesan Spring Assembly on February 2 and 3, 2018 at




Christ Episcopal Church




300 N. Main, Temple, TX 76502
Spring Assembly Map              Spring Assembly Agenda            Spring Assembly Hotels DOKregistration2018
Triennial for The Order of the Daughters of the King®
June 20-24, 2018 at The Renaissance at the Arboretum, Austin, Texas
It you would be interesting in hosting a Chapter Meeting Workshop in your convocation, please contact Renate Send Email and she will help schedule one in your area.
If your chapter or convocation is having a quiet day, service, etc. please send information to have posted to:  Teresa Antley
Send Email
  so it can also be posted…